the sacred tethers of body, earth and everyday
Signed by the author
A heartfelt response to the lack of mystical literature by those who have chosen to be bound by the eros and gravity of family, love, work, and the world.
Muddy Mysticism: The Sacred Tethers of Body, Earth, and Everyday is a heartfelt response to the lack of mystical literature by those who have chosen to be bound by the eros and gravity of family, love, work, and the world. It is a lyrical articulation of an emergent feminist mysticism. Through prose and poetry, Natalie explores the possibility of direct experience with the divine beyond the bounds of a particular belief system. She advocates that ordinary life in the modern world is not something to be transcended or escaped but is a mystical path in its own right.
Muddy Mysticism offers consolation and a way forward for those who feel the truth and bewilderment that the German Jesuit priest, Karl Rahner, touched upon when he said that the only way a person would survive with an intact faith in this century is by being a mystic.
Natalie Bryant Rizzieri is an award-winning poet. This is her first non-fiction book.
Additional information
| | |
| --- | --- |
| Weight | 0.34 kg |
| Dimensions | 216 × 140 mm |
| Sub-title | the sacred tethers of body, earth and everyday |
| Author | Natalie Bryant Rizzieri |
| Pages | 254 |
| ISBN | 978-1-910559-65-9 |
| Release date | May 2021 |
| Signed? | Signed by the author |
| eBook ISBN | 978-1-910559-56-7 |
| Cover artist | Tara Turner |
Praise
Praise for Muddy Mysticism
With breath-taking lyricism, Natalie Bryant Rizzieri captures a new definition of the divine – one that shows us darkness can be holy, the prosaic a place of Mystery, and that the sacred can bleed in through the cracks. This searing provocation to reclaim what is sacred in our daily lives is tenderly excavated from the ruins of patriarchy and indoctrination. It is a brilliant debut: exquisitely crafted and an indelible classic.
Katherine Larson, author of Radial Symmetry and winner of the Yale Series of Younger Poets
Natalie Bryant Rizzieri documents her struggles to find divinity in the world, in the body, in the overwhelming, repetitive tasks of motherhood, and in a marriage where she had subordinated many of her needs to those of her husband. This proves more difficult than she had imagined it would be, but in the end, she finds divinity in the muddy messiness of life.
Carol P. Christ, author of Rebirth of the Goddess and Goddess and God in the World and leader of the Goddess Pilgrimage to Crete
More women's stories need to be told. Particularly those that are magnificently honest and authentic, reflecting the resilience and creativity and generosity that's desperately needed in our world and religions right now. That's what Natalie's book offers us. Muddy Mysticism is an invitation into the Sacred through the portal of the raw realities of motherhood and feminine ways of knowing. Her poetry and unapologetic prose reveal a tender heart…for her children, for the world, for God. Her story helped me to regard my own story with more tenderness. I will offer it to our Seminary of the Wild students as a resource of how to live as a feminine mystic in our modern, busy, overwhelming world.
Victoria Loorz, co-founder of Seminary of the Wild, convener of Wild Church Network, author of Church of the Wild: How Nature Invites Us into the Sacred
Do you too stand frozen at the crosshairs of idealism and skepticism? Are you, like me, a spiritual agnostic disguised as an atheist? Let this book be your companion. Muddy Mysticism isn't muddy at all. Natalie Bryant Rizzieri shows us the way, clearing some much needed space for a mysticism rooted in the rawness of (all) women's lives. This intimate and humorous account of a woman whose sanity had been rendered threadbare by the combined demands of motherhood and urban life becomes all the more surprising when one discovers the poems inlaid at the heart of each chapter. Reach for this book the way you'd reach for a mug of tea in the kitchen of a dear friend. Appreciate its offer of fortitude and sanity. I did and do.
Cate Marvin, author of Oracle, World's Tallest Disaster, Fragment of the Head of a Queen and winner of a Whiting Award, and Guggenheim Fellowship
Muddy Mysticism is an evocative, powerful experience of a book, a profound soul's journey that is clearly set down to paper with palpable devotion and vast experience. The true heart of an immense mystic shines through in every word.
What an incredibly beautiful and hearty love letter to life. Natalie Bryant Rizzieri has written with such grace and grit about the dark and often dirty places where the divine takes us through exile and in the search for belonging.
Muddy Mysticism embodies and satisfies the essential longing of readers to connect in with this very earthy journey to the broken open soul. It is a landmark of a book. Brave, raw, vibrant. I am grateful to have come across it.
Eila Carrico Kundrie, MA, MFA, author of The Other Side of the River:stories of women, water and the world
Muddy Mysticism is a blessing of a read that enables us to find our divine within the dirt of our lives. A permissive, loving and empowering read which will expand hearts and minds into finding the magic in the mystery of our own lives.
Alice Grist, author of Dirty & Divine: a transformative journey through tarot
If muddy water is allowed to stand, the water clears. In this remarkable book, Natalie Bryant Rizzieri, insists on hope in the clearing. Gifted poet who is also wife, mother of three sons and activist, Natalie is an apostle of sacred immanence. Gifting the reader with her poetic vision of the everyday as a sacred altar, she insists that if God is anywhere, God is right here and now.
Vivienne Joyce, Sister of Charity of New York
Meet the author: Pippa Grace
She has run participatory arts projects with a diverse range of communities since 2001. She facilitates the sharing of stories and the creation of 'visual narratives' at beautifully held workshops. Participants tell their story using a combination of media including textiles, book-making, creative writing and digital storytelling. Pippa is particularly interested in helping to give voice to the quiet, every-day stories that may otherwise be overlooked or forgotten. Where voices have been silenced, her practice helps them find a creative way to speak out.
A passionate feminist for as long as she can remember, Pippa specialises in working women, exploring issues including motherhood, grand-motherhood, menarche, the female body and trauma. In her sculptural practice, she investigates the ways in which our personal and collective stories are frequently embedded within our bodies. All of her work is grounded by an ongoing fascination with, and research into, the healing qualities of literature, myth, fairytale, storytelling, dream and archetype.
Pippa lives in Bristol and is a mother to two amazing daughters.
is a socially engaged artist, writer and sculptor. Her work brings together over 24 years of training and working in the worlds of holistic health, body work, dance, creative writing, journalism, film, photography and sculpture.
Meet the artist: Tara Turner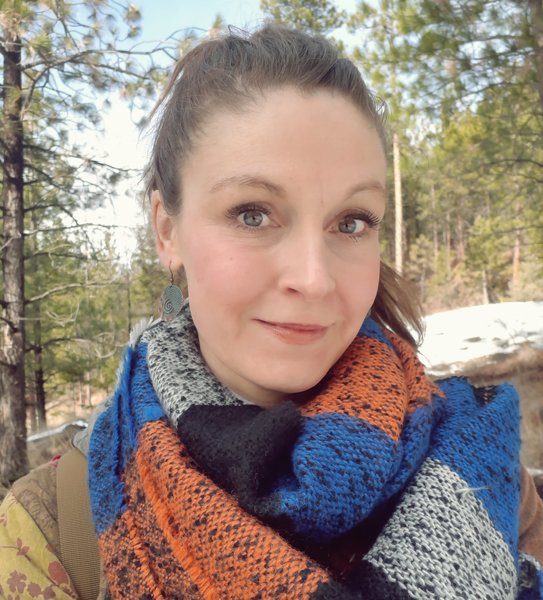 Womancraft Publishing is proud to celebrate not just the words, but the images of talented women too.
TARA TURNER,
creator of the image 'Holding in Gold' used for the cover of
Muddy Mysticism,

 
is a self-taught digital artist and photographer who lives in the Similkameen Valley in British Columbia, Canada. Her digital artworks are inspired by the colours of changing seasons and the magical energy flow of the forest. She spends her free time roaming the mountains and along the banks of the Similkameen River, where she creates artworks created from fallen leaves, driftwood, wild flowers and river stones.