Womancraft Publishing Book Club
What's even better than books?
Sharing them with like-minded people.
Announcing the launch of the brand new Womancraft Book Club!
Womancraft was founded on the idea of community-building around books. We have heard from book clubs around the world that have enjoyed reading and discussing our books…so we've decided to host our own virtual Book Club – and you're invited!
Now's your chance to read along with the Womancraft community and join our authors for exclusive Book Club events. They will read from their book, give you a behind-the-scenes glimpse of how and why they wrote it, as well as the opportunity to ask them your own burning questions about it.
How it works
Book Club will run every two months, featuring a different Womancraft book and author each time. We have a fabulous line up planned. Join Womancraft Publishing founder Lucy H. Pearce in conversation with our featured authors, as well as an insightful discussion of how and why the book was written and its themes, the author will read from their book, offer a ritual, exercise or meditation and give an opportunity for you to ask questions.
Book Club is FREE to attend, but you must book ahead. Places are limited to 100 each time, on a first come, first served basis. We hope to offer a recording of each Book Club for those who cannot attend live.
We will email you around 6 weeks before to let you know which book is featured and offer you a 10% discount off a signed copy in the Womancraft shop. You are more than welcome to join the club if you have the book already or if you purchase it elsewhere.
So to take part follow these steps:
Order the book (if you don't have it already.)
Sign up to the individual mailing list for each book club (see below). You will receive three emails in total – one with the invitation link to for the Zoom call with our featured author, one reminder (you may reply to either of these to submit your questions to the author), and finally one with a replay link in case you are unable to attend live.
Receive and read the book.
Submit your questions for the author to us by email.
Attend the virtual book club via Zoom. We welcome you to join the Zoom with your video turned on or equally turned off if you prefer to just listen in unseen. (But we do ask you to have your microphone muted.)
Book Club #10: January 11, 2024
Eila Carrico, The Other Side of the River
— Women and Water – Finding our Flow
We'd love for you to join us at January's live virtual Book Club where Eila and Lucy will discuss 'Women and Water – Finding Our Flow'.
Thursday 11th January 2024, 7pm GMT.
Get your copy HERE with a limited time 10% discount.
Sign up to the The Other Side of the River Book Club mailing list HERE to receive the Zoom link.
You will receive just 3 emails – one with the invitation link to the Zoom call with Stella and one reminder. You may reply to any of these with your questions to submit to Stella. We will also email you a replay link in case you are unable to attend live.
We will also email you a replay link the day after.
We can't wait for you to join us!
About the Book
The Other Side of the River: stories of women, water and the world is a deep searching into the ways we become dammed and how we recover fluidity. It is a journey through memory and time, personal and shared landscapes to discover the source, the flow and the deltas of women and water.
Rooted in rivers, inspired by wetlands, sources and tributaries, this book weaves its path between the banks of memory and story, from Florida to Kyoto, storm-ravaged New Orleans to London, via San Francisco and Ghana. We navigate through flood and drought to confront the place of wildness in the age of technology. Part memoir, part manifesto, part travelogue and part love letter to myth and ecology, The Other Side of the River is an intricately woven tale of finding your flow … and your roots.
A person belongs forever to the land that clains her most persistently, calls her obsessively, shatters her conceptions of self, shapes her, and loves her so radically that her own heartbeat is felt in the soil.
Eila Kundrie Carrico is a mesmerising new female voice in the American canon of nature writing. Her writing is a celebration of wild nature and cultures that has the power to awaken a felt sense of our collective human story as deeply embedded in the natural world.
Eila Kundrie Carrico grew up in rural central Florida. Her curiosity led her down a meandering path of discovery from a young age. She was inspired by her studies in journalism, anthropology and religion to travel around the world and teach in Paris, Ghana, Thailand and India. She studied yoga and embodied archetypes for nine years before completing a master's degree in Engaged World Psychology and then an MFA in Creative Writing and Consciousness in San Francisco.
Eila is a weaver and wordsmith who delights in the mystery and magic of landscapes and memory. She lives in Berkeley with her partner and their little boy where she teaches yoga and weaves stories. The Other Side of the River is her first book.
Book Club #9: November 16, 2023
Stella Tomlinson, Cycles of Belonging
— Cycles of Belonging – living cycle wise
Thank you if you joined our Book Club in November with Stella Tomlinson who was discussing her book Cycles of Belonging and Living Cycle Wise with Lucy H. Pearce.
If you missed the live event, you can watch a replay of Stella's book club here:
About the Book
Cycles of Belonging: Honouring ourselves through the sacred cycles of life is a guide to unlocking the powers of cyclic living to lead a more fulfilling, meaningful, and wholehearted life. It offers an embodied feminine and feminist psycho-spiritual path for women to reclaim their inner wisdom, follow the callings of their soul, and come home to a profound sense of belonging to the seasons and cycles of life.
Cycles of Belonging guides you through six sacred temples of belonging:
Presence – the breath cycle
Daily Rhythms – the circadian cycle
Sacred Blood – the menstrual cycle
The Moon – the lunar cycle
The Sun – the solar cycle, exploring the seasons and the wheel of the year
The Life Cycle & Goddess Archetypes – exploring the life cycle archetypes of Maiden, Lover, Mother, Queen and Crone
Each Temple explores the energies of each cycle, their healing gifts and shadows/challenges, together with practical suggestions on how to work with the cycles, including journal prompts, rituals and blessings, as well as magical words of poetry and soul guidance.
Stella Tomlinson is a Priestess, author and restful meditation guide, sharing a healing path honouring life's sacred cycles and the callings of the soul. Her work has evolved from over twenty years' experience in personal and spiritual development through meditation, yoga, mindfulness, energy healing, and Goddess and Earth-based spirituality and she has been teaching and writing in these fields since 2011.
Book Club #8: September 7, 2023
Molly Remer, Walking with Persephone
— Stepping into Everyday Priestessing
At the September 2023 live virtual Book Club, Molly Remer discussed her book Walking with Persephone and 'Stepping into Everyday Priestessing' with Lucy H. Pearce.
If you missed the live event, you can watch a replay of Molly's book club here:
About the Book
Walking with Persephone: A Journey of Midlife Descent and Renewal
Midlife can be a time of great change – inner and outer. How do we journey through this…and what can we learn in the process? Molly Remer is our personal guide to the unraveling and reweaving required in midlife. She invites us to take a walk with the goddess Persephone, whose story of descent into the Underworld has much to teach us. This book is a journey of soul-rebuilding, of putting the pieces of oneself back together.
Walking with Persephone weaves together personal insights and reflections with experiences in practical priestessing, family life, and explorations of the natural world. It advocates opening our eyes to the wonder around us, encouraging the reader to both look within themselves for truths about living, but also to the earth, the air, the animals, and plants we share our lives with.
Part memoir, part poetry, part soul guide, Molly's evocative voice is in the great American tradition of sacred nature writing.
Molly Remer, MSW, D.Min, is a priestess, mystic, and poet in central Missouri. Molly and her husband Mark co-create Story Goddesses at Brigid's Grove. Molly is the author of ten books, including Walking with Persephone, Whole and Holy, Womanrunes, the Goddess Devotional, and 365 Days of Goddess. She is the creator of the devotional experience #30DaysofGoddess and she loves savoring small magic and everyday enchantment.
Book Club #7: July 13, 2023
Natalie Bryant Rizzieri, Muddy Mysticism
— Modernity, Mysticism and Everyday Women
At the July 2023 live virtual Book Club, Natalie Bryant-Rizzieri and Lucy H. Pearce discussed 'Modernity, Mysticism and Everyday Women'.
If you missed the live event, you can watch a replay of Natalie's book club here:
About the Book
Muddy Mysticism: The Sacred Tethers of Body, Earth, and Everyday is a heartfelt response to the lack of mystical literature by those who have chosen to be bound by the eros and gravity of family, love, work, and the world. It is a lyrical articulation of an emergent feminist mysticism. Through prose and poetry, Natalie explores the possibility of direct experience with the divine beyond the bounds of a particular belief system. She advocates that ordinary life in the modern world is not something to be transcended or escaped but is a mystical path in its own right.
Muddy Mysticism offers consolation and a way forward for those who feel the truth and bewilderment that the German Jesuit priest, Karl Rahner, touched upon when he said that the only way a person would survive with an intact faith in this century is by being a mystic.
Natalie Bryant Rizzieri is a poet, writer, activist, mother and mystic. Her poetry has appeared in journals such as Denver Quarterly, Pleaides, Terrain.org, and Crab Orchard Review. She is the winner of the Hackney Literary Award. She is the founder and director of Friends of Warm Hearth, a movement of forever homes for abandoned Armenians with special needs.
She spends her free time, at least in spring, digging for earthworms, watching for ravens and collecting moss. She is making a home deep in the forest near Flagstaff, Arizona, with her husband and three sons. This is her first book.
Book Club #6: May 11, 2023
Melia Keeton-Digby, The Heroines Club /
The Hero's Heart
— Raising our Children in Circle
Thanks to everyone who tuned into our May 2023 book club featuring Melia Keeton-Digby, author of the beautiful and much-needed The Heroines Club and The Hero's Heart.
If you missed the live event, you can watch a replay of Melia's book club here:
About the Books
The Heroines Club: A Mother-Daughter Empowerment Circle offers nourishing guidance and a creative approach for mothers and daughters, aged 7+, to learn and grow together through the study of women's history.
Each month focuses on a different heroine, featuring athletes, inventors, artists, and revolutionaries from around the world including Frida Kahlo, Rosalind Franklin, Amelia Earhart, Anne Frank, Maya Angelou and Malala Yousafzai as strong role models for young girls to learn about, look up to, and be inspired by.
Offering thought-provoking discussion, powerful rituals, and engaging creative activities, The Heroines Club fortifies our daughters' self-esteem, invigorates mothers' spirits, and nourishes the mother-daughter relationship. In a culture that can make mothering daughters seem intimidating and isolating, it offers an antidote: a revolutionary model for empowering your daughter and strengthening your mother-daughter relationship.
The Hero's Heart – A Coming of Age Circle for Boys (And the Mothers who Love them) is a groundbreaking new approach to raising healthy, compassionate, and emotionally intact young men. Innovative and timely, this mother-son curriculum is an answer to what our boys need in order to thrive – rather than just survive – in the current culture of traditional masculinity. With genuine encouragement and invaluable insight, Melia inspires mothers to create the intentional communities, character-shaping opportunities, and rite-of-passage experiences that adolescent boys crave. The Hero's Heart is a gift to anyone involved in raising or nurturing boys.
By sharing The Hero's Heart together, your son will:
Develop a strong sense of self and values.
Learn to be comfortable with intimacy, authenticity, and vulnerability in relationships with others.
Develop a solid working relationship with his own inner guidance system.
Be well-prepared to safely navigate peer-pressure, drugs, alcohol and sex.
A revolutionary twelve-month journey for mothers and sons, ages 9–14 to explore the core values and themes our boys need most in their passage to healthy young manhood.
Melia Keeton-Digby is a writer and speech-language pathologist specializing in dyslexia. She is the founder and creator of The Nest, a sacred gathering space in Georgia, USA, where she first birthed her mother-daughter and mother-son empowerment circles, on which her books are based. Melia is passionate about supporting mothers in raising confident and connected children.
Book Club #5: March 16, 2023
Pippa Grace, Mother in the Mother
— Our Mothers, Our Selves, creative approaches to generational healing
Thanks to everyone who attended our March 2023 Womancraft book club, featuring the beautiful Mother in the Mother by Pippa Grace.
Watch a replay of the Mother in the Mother book club here: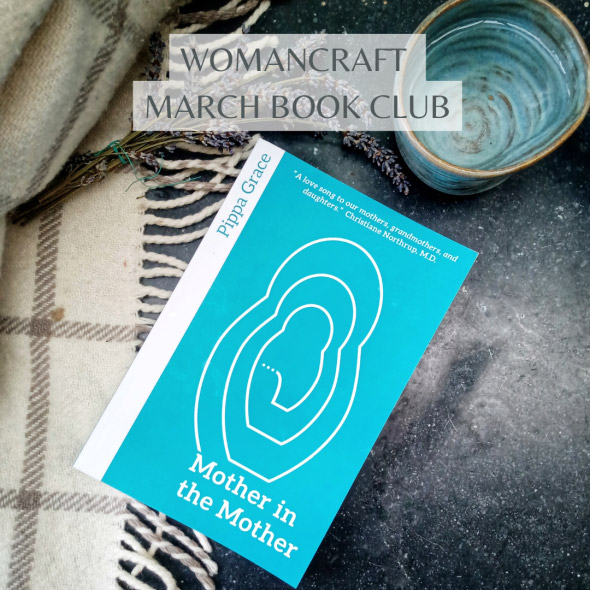 About the Book
When a woman becomes a mother, it is often a time she reflects back upon the way she herself was mothered. Our maternal inheritance from our mother, grandmother, great-grandmother and beyond can have a great influence upon the ways in which we choose to bring up our own children.
Whilst much has been written about the complexity of the mother/daughter relationship, Mother in the Mother explores new territory by looking at the three-way relationship between grandmother, mother and child. Featuring the voices of over 50 mothers from a diverse range of ages, cultural backgrounds and experiences exploring themes of: love, stress, loss, healing, belonging, infertility, mental and physical health issues, twin pregnancy, adoption, pre-maturity, sexuality, single motherhood, young motherhood, abortion, maternal ambiguity and long-distance relationships with families of birth.
This is a personal and her-storic exploration of maternal lineage by project creator, Pippa Grace. Guidance on creating your own healing, creative projects based on the activities used in Mother in the Mother workshops. Diverse, rich, celebratory, challenging, sometimes painful and ultimately uplifting together the stories in Mother in the Mother illuminate how the strength of maternal love can have the power to heal and overcome adversity.
Pippa Grace is a socially engaged artist, writer and sculptor. Her work brings together over 24 years of training and working in the worlds of holistic health, body work, dance, creative writing, journalism, film, photography and sculpture.
She has run participatory arts projects with a diverse range of communities since 2001. She facilitates the sharing of stories and the creation of 'visual narratives' at beautifully held workshops. Participants tell their story using a combination of media including textiles, book-making, creative writing and digital storytelling. Pippa is particularly interested in helping to give voice to the quiet, every-day stories that may otherwise be overlooked or forgotten. Where voices have been silenced, her practice helps them find a creative way to speak out.
A passionate feminist for as long as she can remember, Pippa specialises in working women, exploring issues including motherhood, grand-motherhood, menarche, the female body and trauma. In her sculptural practice, she investigates the ways in which our personal and collective stories are frequently embedded within our bodies. All of her work is grounded by an ongoing fascination with, and research into, the healing qualities of literature, myth, fairytale, storytelling, dream and archetype.
Pippa lives in Bristol and is a mother to two amazing daughters.
Book Club #4: January, 2023
Alice B. Grist, Dirty & Divine
— Unlocking the Wisdom of the Tarot to guide you in Daily Life
Our first Book Club of 2023 featured our resident tarot expert, Alice B. Grist, author of many books including Dirty and Divine: a transformative journey through tarot. In conversation with Womancraft Publishing founder Lucy H. Pearce, they shared cards and a reading from her stunning book, Dirty & Divine, as well as answering your questions.
Watch a replay of the Dirty & Divine book club here:
About the Book
There is something sacred within you, in all that you are and all that you do. In a mix of you that is everyday dirty, and spiritually divine, there is something so perfect, something more. Welcome to your journey back home; to your dirty, divine passage back to you.
Wherever you are, whether beginner or seasoned tarot practitioner, Dirty & Divine is written for you, to accompany you on a powerful personal intuitive journey to plumb the depths of your existence and encompass the spectrum of wisdom that the cards can offer.
Dirty & Divine is a tarot-led vision quest to reclaiming your femininity in all its lucid and colourful depths.
Alice B. Grist is a soulful mama with a passionate belief in the divine that resides in us all. Her approach is refreshingly gritty with a huge focus on the darker, dirtier, and amusing side of a spiritual, human experience. Alice has four previously published books garnering awards and international acclaim as the perfect bridge for a modern reader to a more soulful life. She lives in Leicestershire, UK, with her musician husband and two daughters.
Book Club #3: November, 2022
Wendy Havlir Cherry, The Mistress of Longing
— Learning to Say Yes to your Longing
November's live virtual Book Club will feature Wendy Havlir Cherry talking about her hauntingly beautiful book, The Mistress of Longing, and giving you a chance to ask questions.
Watch a replay of our The Mistress of Longing book club now:
About the Book
It is only through entering our longing that we can also unlock the door of belonging.
The Mistress of Longing is…
An invitation to listen and trust the deep feminine that longs to be heard.
A love letter from, and for, devotion.
A prescription for a passionate and creative life.
A sacred reclamation.
A liberation of desire.
A hymn to kindness.
The voice of a modern mystic.
Wendy Havlir Cherry, is a poet, mindfulness instructor, and spiritual mentor. She holds three Master's Degrees, in Eastern Classics, Western Philosophy and Counselling from a Contemplative Psychotherapy approach. She has worked for many years as a psychotherapist with individuals and groups, adults and children, using mindfulness, play therapy, poetry, and storytelling.
Wendy has been a continuing student of Dr. Clarissa Pinkola Estés, PhD, and author of Women Who Run with the Wolves, taking advanced trainings in Curanderismo in The Heart of the Wounded Healer series, and the integration of storytelling and the healing arts for helping professions in The Mysterium series
Book Club #2: September, 2022
Lucy H. Pearce,
 

She of the Sea
— Diving into the Depths of the Sacred Feminine
At September's live virtual Book Club you will hear Lucy read from and talk about the book and have a chance to ask your questions. Some of the contributors to the book will also be present and there will be a short She of the Sea ritual. It is going to be really lovely and we hope you can come!
Watch a replay of our She of the Sea book club now:
About the Book
The tenth book from bestselling author of Burning Woman, Medicine Woman, Moon Time and Creatrix, Lucy H. Pearce.
She of the Sea is a lyrical exploration of the call of the sea and the depth of our connection to it, rooted in the author's personal experience living on the coast of the Celtic Sea, in Ireland.
This book spans from coastal plants to the colour blue, pebbles to prayer, via shapeshifting and suicidal ideation, erosion and immersion, cold water swimming and water birth, seaweed and cyanotypes, from Japanese freedivers and Celtic sea goddesses, selkies to surfing, and mermaids to Mary.
She of the Sea is a strange and wonderful deep dive into the inner sea and the Feminine, exploring where the real and the magical, the salty and the sacred meet, within and without, and what implications this has for us as both individuals…and a species in these tumultuous times.
Dreamlike, meditative, poetic, She of the Sea is a love song. To the ocean. To becoming. To magic. To freedom.
With contributions from thirty sea-loving artists, musicians, cold water swimmers, mothers, environmental educators, witches, mermaids, priestesses and writers from around the world, who share their love for the stretch of sea they call home, from the Irish Sea to the Caribbean, via the Mediterranean and the North Sea, the Pacific and the Atlantic.
Lucy H. Pearce is the author of ten life-changing non-fiction books for women, including her best-selling Burning Woman – an incendiary exploration of women and power – written for every woman who burns with passion, has been burned with shame, and in another time or place would be burned at the stake.
Lucy's work is dedicated to supporting women's empowered, embodied expression through her writing, teaching and art. She lives in East Cork, Ireland, where she runs Womancraft Publishing – creating life-changing, paradigm-shifting books by women, for women.
She blogs on creativity at: dreamingaloud.net
Book Club #1: July, 2022
Gina Martin, Sisters of the Solstice Moon
— Priestessing in the Future: the loss of goddess culture and rise of patriarchy
Thank you so much to all who joined the first Womancraft Book Club.
We so enjoyed hearing Gina talk about her book Sisters of the Solstice Moon and thank you for all your questions.
Watch a replay of our first book club now:
About the Book
On the Winter Solstice, thirteen women across the world see the same terrifying vision. Their world is about to experience ravaging destruction. All that is now sacred will be destroyed. Each answers the call, to journey to Egypt, and save the wisdom of the Goddess:
She who is Kali Ma from the jungles of Arya, Tiamet from the Roof of the World, Badh of the Cailleach from the land of Eiru, Awa from the Land of Yemaya, Uxua of Ix Chel from the Yucatan, Parasfahe from the Land of Inanna… all racing against time and history to bring us their story.
This is the history before history. This is herstory, as it emerged.
Sisters of the Solstice Moon is the first book in the 'When She Wakes' trilogy, followed by Walking the Threads of Time and the newly released finale She is Here. All available to buy now from our webshop and all good booksellers.
Gina Martin is a founding mother and High Priestess of Triple Spiral of Dún na Sidhe, a pagan spiritual congregation in the Hudson Valley. She is a ritualist, teacher, healer, mother, and writer of sacred songs.
Gina is a practitioner of Classical Chinese medicine and a Board certified licensed acupuncturist.
She lives as a steward of the land that previously held a village of the Ramapough Lenape where people can come together now to remember the Old Ways. She is kept company by her husband and dogs, as well as the Sidhe who live in the hills.